About Us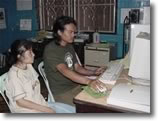 Since 2001 The Curriculum Project has provided curricula, materials and teacher training to further education and adult education projects run by Burmese exile, refugee and migrant communities on the Burma border. CP currently works with:
90+ further study ('Post-10'), adult education and training programmes.
CP's support ranges from designing syllabi and curricula with stakeholders, writing materials, running workshops for teachers, supplying magazine subscriptions and other media resources and assisting with volunteer placements.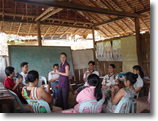 The Curriculum Project aims to develop and implement community-focused, skills-based curricula that would instill critical thinking and independent learning skills in learners from disadvantaged groups from Burma.
CP highlights since 2001 (approximately):
61 – modules CP has created (48 are currently used and distributed),
60,000 – copies of CP materials distributed to schools and programmes
5000 – materials downloaded for free from our website
1100 – teachers who have participated in CP trainings
Our main activities are:
Designing locally relevant curricula together with school and community stakeholders.
Producing, implementing and evaluating context-appropriate teaching materials.
Running subject area workshops to plan curricula and discuss subject specific teaching methodology.
Conducting pre-service trainings for new teachers.
Providing ongoing teacher support services.
Sourcing relevant teaching and learning materials; local and international magazine subscriptions, multimedia resources, internet resources, international textbooks, library stock.
Maintaining an extensive resource library, available to all educators and organisations working with people from Burma.
Engaging in the development of local migrant education policy for Burmese schools and advising on better mechanisms and systems for operation.