Residential Training: Teacher Training for Educational Purposes Program
Since 2016,The Curriculum Project implemented a residential teacher training program known as Teacher Preparation Center (TPC) in partnership with the Karen Teacher Working Group (KTWG), and the advice and management supports from the Karen Refugee Committee Education Entity (KRCEE) and the Karen Education Department (KED). The training program is a pre-service teacher training program which recruited 30-35 trainees per course from different ethnic backgrounds and locations along the Thai-Myanmar border.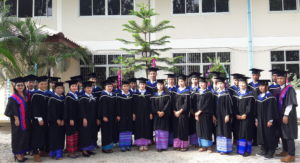 This 2018-2019 academic year, TPC accepts two batches of applicants. The first batch of TPC started in June till mid-September and the application deadline for this batch was on the 20th April 2018. The 2nd batch of TPC will start in October till mid-January 2019, and the application deadline for this batch is on the 17th August 2018.
Interested candidates for the 2nd batch please download the application form and reference form from below links.