Welcome to Curriculum Project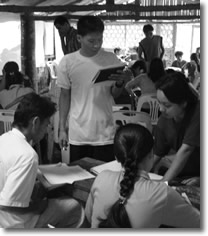 The Curriculum Project (CP) of Thabyay Education Network was established in 2001 to work with post-secondary (Post-10) schools and adult education programmes along the Thailand-Burma border.
CP works with teachers and learners to design curricula and materials, and provides teacher training and teacher support programmes. Almost all schools and organisations the project works with are run by and for exiles, refugees, migrant workers and other marginalised groups from Burma.
Our objectives are to develop curricula and materials for two purposes: to capacitate students for work in community organisations, and to prepare students for further education opportunities. Currently we are working on curricula, materials and teacher training for general and academic English language learning, social studies, maths, science and community development.
For detailed book descriptions, please check out our online catalogue. Books are available at production cost in the Curriculum Project's office and resource center and the majority can be downloaded free of charge from the downloads section of the website.