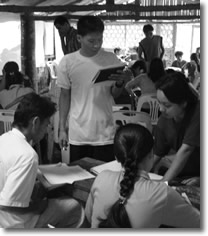 The Curriculum Project (CP) of Thabyay Education Network was established in 2001 to work with post-secondary (Post-10) schools and adult education programmes along the Thailand-Burma border.
CP works with teachers and learners to design curricula and materials, and provides teacher training and teacher support programmes. Almost all schools and organisations the project works with are run by and for exiles, refugees, migrant workers and other marginalised groups from Burma.
Our objectives are to develop curricula and materials for two purposes: to capacitate students for work in community organisations, and to prepare students for further education opportunities. Currently we are working on curricula, materials and teacher training for general and academic English language learning, social studies, maths, science and community development.
For detailed book descriptions, please check out our online catalogue. Books are available at production cost in the Curriculum Project's office and resource center and the majority can be downloaded free of charge from the downloads section of the website.
Latest Updates
Activities for the Science Classroom Now Available!
Posted May 27, 2013
This new activities book contains 50 activities and experiments that require few resources and simple instructions. It contains a full glossary of scientific terms, with Myanmar translations.
Click on the link to download, or go to our teaching resources page here.
Burmese Southeast Asia Printed
Posted March 14, 2012
There is a new arrival in our office – nicely printed Burmese Language Southeast Asia student books. If you are interested in getting copies of this book, please contact us or download them from our website.
Burmese Version of Intro to Teaching Skills Available
Posted August 3, 2011
The Burmese language version of the Introduction to Teaching Skill is now completely available on our website.
To download the Trainer book click here.
To download the Trainee book click here.
Updated Introduction to Social Studies Available
Posted June 15, 2011
We have just released our updated and redesigned Introduction to Social Studies module. It is now available online here and also has been mass printed here at our office.
Please contact us for a paper copy or download the new, 3rd edition student book and teacher guide here.
50th Learning with the Irrawaddy lesson plan published
Posted December 30, 2010
Portraits from Exile
Celebrating our 50th lesson, this one looks at a series of portraits taken of people along the Thai-Burma border. The article includes the stories of the people in the portraits. These images and their stories have been published around the world in several different publications. There are comprehension and vocabulary activities as well as group work and creative writing.
Portraits from Exile Student's worksheet – (50) December 2010 (0.7mb)
Teacher's notes (0.1mb)
« Previous Entries
Next Entries »