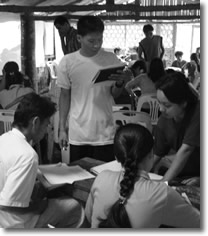 The Curriculum Project (CP) of Thabyay Education Network was established in 2001 to work with post-secondary (Post-10) schools and adult education programmes along the Thailand-Burma border.
CP works with teachers and learners to design curricula and materials, and provides teacher training and teacher support programmes. Almost all schools and organisations the project works with are run by and for exiles, refugees, migrant workers and other marginalised groups from Burma.
Our objectives are to develop curricula and materials for two purposes: to capacitate students for work in community organisations, and to prepare students for further education opportunities. Currently we are working on curricula, materials and teacher training for general and academic English language learning, social studies, maths, science and community development.
For detailed book descriptions, please check out our online catalogue. Books are available at production cost in the Curriculum Project's office and resource center and the majority can be downloaded free of charge from the downloads section of the website.
Latest Updates
Community Project Management 2nd edition
Posted July 27, 2015
This new version of Community Project Management has extra learning and practice activities, a glossary and translation of technical terms into Myanmar language.
You can get the printed book from our office or click on this link to download a copy for free.
Support our Crowd Fundraising Campaign
Posted March 12, 2015
Support our Crowd Fundraising Campaign "Support Teacher Training for Myanmar People" on YouGiving by donating and sharing.
Thank you very much for supporting our work!
New resource guides available!
Posted September 15, 2014
New resource guides available to accompany three of CP modules. They are General English, Southeast Asia Studies, and Teaching Skills resource guides.
Click on the links below to download these useful resource guides:
English Guide_print.pdf
SEA Guide_print.pdf
Teaching Skills Guide_print.pdf
Or click on these links: English Teaching Materials, Social Studies Teaching Materials and Teaching Resources
Community Project Management (Newest Module!)
Posted October 3, 2013
This module is designed to provide an introduction to the main concepts of community project management and to develop the skills needed to implement successful projects. It is not necessary for students to have previous experience of implementing projects, however this module will be of most use to students who have some knowledge of working in their communities.
Click on the link to download this book.
Who Killed Chea Vichea? movie module is available!
Posted May 27, 2013
This documentary module is about the murder of a Cambodian labour rights activist. It is in both English and Myanmar and it has been produced to support teachers who wish to use the documentary with their students.
You can download the module by clicking here, or go to this page.
The movie – with both English and Myanmar subtitles is available at The Curriculum Project office.
« Previous Entries
Next Entries »