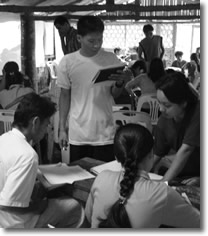 The Curriculum Project (CP) of Thabyay Education Network was established in 2001 to work with post-secondary (Post-10) schools and adult education programmes along the Thailand-Burma border.
CP works with teachers and learners to design curricula and materials, and provides teacher training and teacher support programmes. Almost all schools and organisations the project works with are run by and for exiles, refugees, migrant workers and other marginalised groups from Burma.
Our objectives are to develop curricula and materials for two purposes: to capacitate students for work in community organisations, and to prepare students for further education opportunities. Currently we are working on curricula, materials and teacher training for general and academic English language learning, social studies, maths, science and community development.
Currently at various stages of development are modules on:
Physics • Beginner, Elementary and Intermediate Levels of English Language Learning • Community Development • Politics • Health and Society • Peace and Conflict Studies • Animal Farm • Planet Earth
Latest Updates
Teaching and Learning Material Catalog
Posted June 28, 2018
A short description of each textbook developed by the Curriculum Department can be found in the material catalog here.
Books can be downloaded from the website for free. If you wish to purchase the printed copy of any book from the catalog, please download and fill in your request in the books order form and send your order to info@curriculumproject.org.
Click this link for the book price.
Teacher Preparation Course is calling for new applicants!
Posted February 26, 2018
The Curriculum Project of Thabyay Education Foundation (CP-TEF) in partnership with Karen Teacher Working Group (KTWG) are looking for new applicants to join the the Teacher Preparation Course (TPC) program in 2018-2019.
The program is a three and a half month intensive pre-service teacher training, and applicants should have commitment to serve as teacher for their community at least one year after the program.
Each year, TPC accepts two batches of applicants.  The first batch of TPC will start in June till mid-September and the application deadline for this batch is on the 20th April 2018. The 2nd batch of TPC will start in October till mid-January 2019, and the application deadline for this batch is on the 17th August 2018.
Interested candidates please download the application form and reference form from below links.
Six newly published books available online!
Posted July 15, 2016
If you are interested in getting any copies of these newly printed books below, please contact us or go to our download page to get the soft copies. Enjoy!
Work Skills (English Language)
Environmental Sciences (English Language)
Political Thoughts and Practices: A reader in critical thinking (English
Language)
History of Burma (Updated Edition, English Language)
Teaching Skills (Myanmar Language)
English Self-Starter (self-study guide for beginners, with Karen Translation)
New Books for you!
Posted January 29, 2016
Community Project Management in Burmese
This book contains the main concepts and techniques of community development that will built up your skills to successfully develop and manage community projects.
Go to this page to download.
Teaching Skills for teacher training (3rd edition)
This book contains basic teaching theory and practical methods for creating effectives lessons with emphasis on techniques that work in low-resource settings
Go to this page to download.
English Starter (self-study guide for beginners)
Self-Starter is an English Language Self-study Resource for Myanmar Adults. It includes activities and exercises, selected English-Burmese dictionary, CD with audio and podcasts, tests and revisions, practice package, language reference, a study plan, tips for learning English etc.
Go to this page to download.
2015 version of General/Think English Elementary Units 1-6
Posted November 24, 2015
This updated version of General/Think English Units 1-6 has now available to download. You can get the printed book from our office or click on this link to download a copy for free.
« Previous Entries