Author Archive
« Previous Entries
Posted by cleo | March 9, 2021
The Curriculum Project of Thabyay Edcuation Network Foundation has assisted a wide range of communities, schools and organization that we have been working with since it was established in 2001 by providing curricula, materials and teacher training to further education and adult education projects run by Burmese exiles, refugees and migrant communities as well as providing different educational services for young adults.
Now, we would like to introduce you to our new initiative "Thabyay Resource Center, TRC". The purpose of the Thabyay Resource Center (TRC) is to prepare adult learners from marginalized communities for effective participation in developing their communities and for further education. We believe that our new initiative TRC will serve the current need of the communities that we are serving. Our new initiative provides services such as:
General Education Development (GED) Testing Center
Teacher Training and Professional Development Training
Teaching & eLearning Platform (TeP) courses
Study Abroad Advising and Counseling
English Conversation and Reading Clubs
Library
Further details question you may have for our services and library, please contact us at trcadmin@thabyay.org or phone us on +66 (0)55 534 731.
Please also follow our office map direction to visit our office at a new location.
Posted by cleo | July 5, 2019
These newly published books can be purchased at our office. Please contact us at info@curriculumproject.org for further information.
Environmental Studies
Environmental Science Basics (Burmese) Student's Book & Teacher's Book
Environmental Problems and Solutions (English) Student's Book & Teacher's Book
Introduction to Sustainable Development (English) Student's Book & Teacher's Book
Professional Development
Work Skills (Myanmar) Student's Book and Teacher's Book
Work Skills Series (English): 1. Career Planning, 2. Essential skills in the workplace, 3. Entrepreneurship
Self Starter English Series
Intermediate English (for Myanmar, Karen and Thai speakers)
Pre-intermediate English (for Myanmar, Karen and Thai speakers)
Elementary English (for Myanmar, Karen and Thai speakers)
Posted by cleo | April 24, 2019
Click on the image below for the updated material catalog.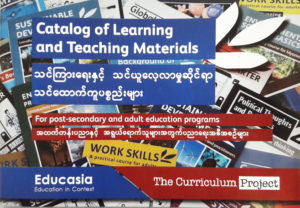 Books can be downloaded from the website for free. If you wish to purchase the printed copy of any book from the catalog, please download and fill in your request in the books order form and send your order to info@curriculumproject.org.
Click this link for the book price.
Posted by cleo | July 15, 2016
If you are interested in getting any copies of these newly printed books below, please contact us or go to our download page to get the soft copies. Enjoy!
Work Skills (English Language)
Environmental Sciences (English Language)
Political Thoughts and Practices: A reader in critical thinking (English
Language)
History of Burma (Updated Edition, English Language)
Teaching Skills (Myanmar Language)
English Self-Starter (self-study guide for beginners, with Karen Translation)
Posted by cleo | November 24, 2015
This updated version of General/Think English Units 1-6 has now available to download. You can get the printed book from our office or click on this link to download a copy for free.
« Previous Entries